AUTHOR : Kenneth Sørensen
PUBLISHED : 2013-10-20 15:42:00
XFX Radeon R9 280X Double Dissipation BOOST 3GB
Så er det blevet tid til at kigge på endnu et AMD Radeon R9 280X grafikkort. Denne gang er det fra XFX og hedder XFX Radeon R9 280X Double Dissipation BOOST 3GB. Mon XFX har formået at få taget livet af alle de børnesygdomme, vores referencekort har haft, og hvordan mon det yder? Det kigger vi på i denne anmeldelse.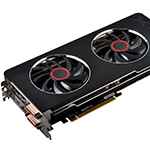 Endnu et Radeon R9 280X grafikkort er landet hos redaktionen, og denne gang er det fra XFX. Som du nok har læst, har vi haft en masse problemer med de nye AMD kort, men vi håber selvfølgelig, at XFX har fået en hormonindsprøjtning, der har taget livet af disse børnesygdomme.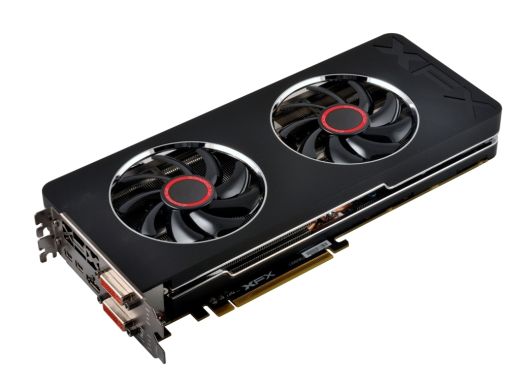 Opsummering:
Godt:
Prisen
Designet er superfedt
Temperaturen på grafikkortet
Undervolter helt fantastisk
Skidt:
Score: 8,5
XFX Radeon R9 280X Double Dissipation 3GB er uden sammenligning det pæneste grafikkort, jeg nogensinde har set, og så tilbyder det et par interessante features, der går ud på overclocking og undervolting. XFX Radeon R9 280X Double Dissipation 3GB har nemlig fået voltage unlock – en feature der gør, at du både kan undervolte og potentielt overclocke højere. Men lad os kigge på det lidt senere.
Specifikationer:
Processor & Bus
Bus Type : PCI-E 3.0
Chipset version : Tahiti XTL
GPU Boost Clock : 1000MHz
GPU Bus (bit) : 384
GPU Clock : 850MHz
Performance Category : Standard
Stream Processors : 2048
Memory
Memory Bus : 384 bit
Memory Clock : 6.0 GHz
Memory Size : 3 GB
Memory Type : DDR5
Feature Technologies
AMD HD3D Technology : Y
AMD Hybrid Graphics Technology : Y
AMD PowerPlay Technology : Y
AMD Stream Technology : Y
Display Output
Display Port ready : 1.2
Dual link Support : Y
HDMI Ready : 1.4a
Max Supported Resolution (ANALOG) : 2048 x 1536
Max Supported Resolution (DIGITAL) : 2560 x 1600
Output - DL-DVI-I : 1
Output - HDMI : 1
Output - mini DP : 2
Output - SL-DVI-D : 1
Physical
Card Profile : Dual
Thermal Type : Dual Slot
Card Dimension (cm) : 29.5 x 14.3 x 4.2
Card Dimension (inch) : 11.61 x 5.63 x 1.65
Master Carton Dimensions (cm) : 50.5 x 34.2 x 34.6
Master Carton Dimensions (inch) : 20 x 13.5 x 14
Master Carton Weight (Kg) : 15.39 est.
Master Carton Weight (lb) : 33.93 est.
Package Dimensions (cm) : 16 x 33.6 x 9.8
Package Dimensions (inch) : 6.3 x 13.2 x 3.9
Package Weight (Kg) : 1.41 est.
Package Weight (lb) : 3.31 est.
Units/Carton : 10
Includes
6-pin to 4-pin power cable : 1
8-pin to 6-pin power cable : 1
Crossfire Bridge : 1
Driver CD Installation Guide : 1
Installation DVD : 1
Promotional Bundles : PSU Cross Marketing Insert
Quick Installation Guide : 1
XFX Serial Number Card : 1
Requirements
External Power - 6-pins : 1
External Power - 8-pins : 1
AMD ZeroCore Power
ZeroCore Power er faktisk umådeligt nemt at forklare. Det går i al sin enkelthed ud på, at dit system er i idle og din skærm slukker (dette kan konfigureres på alle PC'er), og så bliver der "lukket" for strømmen til grafikkortet. Der kommer selvfølgelig en lille mængde strøm igennem, men dette er udelukkende for at computeren stadig kan registrere grafikkortet, mens det er i sin ZeroCore Power state.

Vi plukker lidt i de informationer, som FX selv omtaler til deres nye R200 kort:
Unlocked Voltage – Maximise OC Potential
XFX graphics cards now feature higher voltage capacitors giving gamers the power to customise and truly push their graphics cards to the limit by having access to the GPU and memory voltages to suit the level of gaming and power they need. We love our cards to be pushed and at the same time we trust that our customers are capable and daring enough to get the most out of our GPU\'s so giving them our cards unlocked is a testament to our commitment to true gamers that Play Hard.
Extra Power Phase IC\'s – Available on the R-280X
This card deserved something extra special as we believe the headroom and potential is fantastic, we have upped the required 5 Phase power setup to 6! What does this mean? One of the key benefits is a reduction in heat on the Power IC\'s of around 20% as well as providing a more stable power direct to the GPU which intern ensures a better OC potential combine this with Ghost 2.0, Enhanced Double Dissipation and the unlocked voltage and the results are stunning.
XFX Ghost 2.0 Thermal Technology
The XFX Radeon R9 and R7 Series graphics cards see the first introduction of the all-new XFX Ghost 2.0 thermal design, which is a substantial design evolution from the original Ghost thermal design introduced in 2012. XFX's new Ghost 2.0 features the same open airflow design for maximum cooling as well as a new lightweight poly carbonate construction for super high durability and heat resistance. We have implemented a new two-piece design which protects PCB components from damage and dust and created a beautiful modern design unlike any other graphics card in history.
Highlights:
• We are continuing with our Double Dissipation Dual Fan technology and Evolved it with the Launch of our R series with some key enhancements

• Introducing Ghost Thermal 2.00 Technology ( Dual Fan and Single Fan Thermal)
• Unlocked Voltage – Total Control, all of the time *Specific models only
• Digital Power – Keeping it clean and ripple free *Specific models only
• Power Phase up – Increased power IC controlers *Specific models only
• True Audio – Unleashing ultra realistic surround sound (Single Fan and Dual Fan) *Specific models only
• 2nd Generation GCN Architecture (Single Fan and Dual Fan)
• Mantle – Powering the latest games with direct GPU access (Single Fan and Dual Fan)
• 2nd Generation Powertune technology – Unlocking your GPU performance (Single Fan and Dual Fan)

Other features
• Duratec: Solid Capacitors / Duratec: Ferrite Core / Duratec: IP-5X Dust Free Fan (Single Fan and Dual Fan)
• Black Edition: GPU Edging (Single Fan and Dual Fan Thermal)
• XFX Fan Ramping (Single Fan and Dual Fan Thermal)
• Built on 28 Nanometers – AMD\'s Bleeding Edge next generation silicon wafer technology (Single Fan and Dual Fan)
• Zero core Power Technology (Single Fan and Dual Fan)
• Application Acceleration (Single Fan and Dual Fan)