AUTHOR : Uber
PUBLISHED : 2019-09-09 12:43
Netgear WiFi 6 mesh router
Under IFA 2019 afslørede Netgear deres seneste WiFi 6 router, Orbi WiFi 6, hvilket gør det muligt at oprette op til 12 samtidige trådløse streamingforbindelser på en gang. Den nye Orbi WiFi 6 understøtter 4K og 8K streaming takket være 4 × 4 radioer, 2,4 GHz og 5 GHz fronthaul samt 5 GHz backhaul.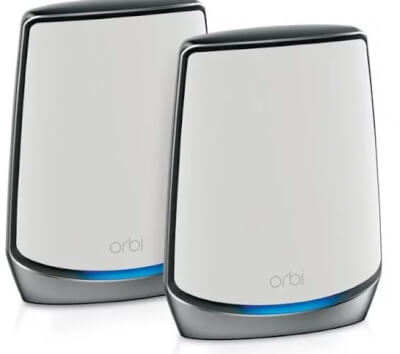 WiFi 6 giver flere enheder mulighed for at oprette forbindelse og streame samtidigt uden at påvirke hastigheden eller stabiliteten. Dette sker gennem planlægning af op imod 12 streams på samme tid ved effektivt at pakke og strukturerer dataen.
Funktioner i den nye trådløse WiFi 6 inkluderer:
– 6 is up to 12 streams… at once.
– 6 is 4X more capacity.
– 6 is a 40% increase in data throughput.
– 6 is a longer battery life for your devices.
– 6 is a proper home for all smart devices.
– 6 is a welcome mat to 8k streaming.
– 6 is 100% backwards compatible.
– 6 is the biggest revolution in WiFi, ever.


Netgear forklarer følgende:
"You may not know it… but there's a good chance the WiFi running throughout your home is outdated. Your router is actually the culprit. While it use to be able to deliver fast internet to your laptop and smartphone, it wasn't built to handle the demand of all the smart devices, consoles, tablets, 4K TV's, thermostats, and more vying for bandwidth today. You deserve to get what you're paying for and should have a WiFi network that's built to handle the devices of today and tomorrow."

Kilde & Image credit:
Netgear